This was my first major match for the 2017 IDPA "season" and the first to be shot under the new rules (posted elsewhere in this forum). Traveling down to AZ from WA State I had hoped for warmer weather but was instead met with rain and cold wind - just like home! LOL!
This would prove to be a challenging match with some interesting stages (see attached match book). Perhaps the most difficult was Stage 5 "Supermarket Surprise" where most shooters were unable to get two hits on the first drop-turner target and/or earned a PE (or worst case a FP) for removing either hand from the shopping cart's handle
prior
to pushing the cart fully into the steel which activated the drop-turner. I earned a PE for this very thing (no doubt trying to hasten my presentation) and it would definitely come back to haunt me contributing to my placing fourth in my division. Anyway, moving forward, playing under the new rules, I really dig the use of fault lines, no more subjective cover calls by SO's.
As much fun as the match was though, for me the real treat for this trip would be the opportunity to train with Morgan Allen (image from class below). The next day after the match, early in the morning, a squad of us returned to the range. Luckily, we would be blessed with better (drier) weather. After introductions (to include what each student wanted to improve upon) we began.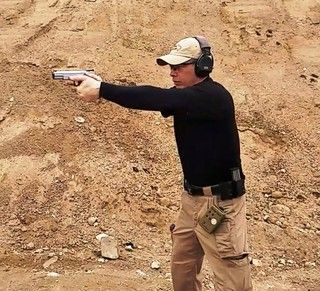 Morgan set the tone right from the get-go establishing IDPA is
not
tactical but rather a game. Having had arguments with some IDPA competitors about this in the past I was relieved to hear a top-tier shooter like Morgan assert this. We were there to learn how to exploit every advantage to make us better competitors in the game.
Morgan clearly organized his class curriculum around the following core components:
Equipment


Physical Skills


Mental Skills and Non-Physical Aspects of the Game


Practice and Preparation


Match Performance
Morgan would spend the day guiding us through the intricacies of each of these core components, thoroughly explaining, demonstrating, and then working with each student as needed. As an instructor I really appreciated Morgan's apparent passion for our learning/improving, and candor in answering all of our questions, and willingness to share his experiences and tips.
This was really a unique opportunity to learn from one of the best IDPA competitors out there. I can without hesitation recommend Morgan Allen's IDPA class – if ever you have the opportunity and want to improve your game, definitely sign-up!